January 6th 2020 was CNN's Most-Watched Day in History
Since the election Nov. 4 – Jan. 6) CNN continues to rank #1 among ALL cable networks (not just news) in both Total Day and daytime among total viewers and adults 25-54.
CNN Dominated Broadcast and Cable News Coverage During the Capitol Insurrection
Outperformed Fox and MSNBC Combined in Demos
72M TURN TO CNN DIGITAL; LIVE STREAM PEAKED AT 1.8M SURPASSING ELECTION DAY
Yesterday's coverage of the insurrection by a pro-Trump mob at the U.S. Capitol yesterday was CNN's most-watched day in the network's history with 5.221 million total viewers tuning in. CNN outperformed the other cable news networks (MSNBC and FNC) in Total Day and prime time (8-11pm) in total viewers and topped them in the key demo adults 25-54 combined. CNN also dominated the broadcast networks (when they were on the air with news coverage) and cable news during the day (2:30-6:30) and prime coverage in both total viewers, adults 25-54 and younger viewers 18-34.
Compared to Cable News yesterday: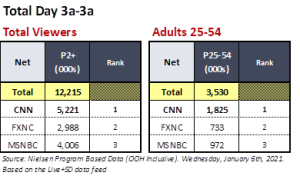 Compared to the Broadcast Nets (when they were on the air with news) and Cable News:
(Note NBC aired coverage but did not submit a program lineup to Nielsen so Fast National Data is unavailable.)


CNN Digital
CNN Digital had its 5th biggest day ever for cross-platform global unique visitors with 72 million turning to CNN yesterday to see, read, and watch the events from the U.S. Capitol unfold. January 6 surpassed the 2020 Presidential Election Day by 5.4 million unique visitors and only trailed days of the week when the 2020 Election results were being finalized. CNN Digital's live stories also saw the 3rd largest day in history with 20 million total day unique visitors.
At 3:05pm ET on Jan. 6th, CNN dropped cable authentication (the requirement to log-in to a cable provider to watch linear coverage online). The live viewing peaked at 1.8 million unique viewers at 4:15pm ET, surpassing the peak 2020 U.S. Election levels by nearly 700k, making the day the 5th largest in CNN Digital history for peak concurrent live streaming.
CNN's coverage of the Capitol Insurrection (2:30-6:30pm) saw an average audience of 532k users live streaming the average minute (equivalent to the way TV ratings are calculated). TV plus digital live streaming produced a combined average audience of 9.497 million total viewers. Digital viewing added a 5.9% lift to CNN TV P2+ average audience.

GEORGIA SENATE RUNNOFF ELECTION (Jan. 5, 2021)
CNN was #1 in cable news during Georgia Senate runoff election programming on Tuesday (1/5) throughout the full coverage block (7pm-3am) as well as during total day (6am-6am) and prime time (8-11pm); MSNBC was second and FNC was last in the key demo adults 25-54. During the full coverage block CNN averaged 1.204 million to MSNBC's 966k to FNC's 613k among 25-54. In total day, CNN had 666k to MSNBC's 491k and FNC's 357k and in primetime, CNN attracted 1.398 million, while MSNBC was second with 1.153 million and FNC was third with 876kamong 25-54. CNN also easily topped FNC during full the full coverage block (3.212m vs. 2.852m) and in total day (2.116m vs. 1.850m) in total viewers during the Georgia Senate Runoff programming.
SINCE THE ELECTION (Nov. 4 – Jan. 6, 2021)
Since the election Nov. 4 – Jan. 6) CNN continues to rank #1 among ALL cable networks (not just news) in both Total Day and daytime among total viewers and adults 25-54. CNN also continues to rank as the #1 cable news network following the election in both total viewers and the demo.  In total viewers, CNN has averaged 1.557 million total viewers, outperforming FNC's 1.434 million and MSNBC's 1.415 million.  And among adults 25-54, CNN has been #1 for 64 straight days averaging 434k, the longest winning streak in 21 years. FNC trails with 259k and MSNBC follows with 244k in the key demo 25-54 since the election.
Source: CNN
Ted Kaczynski, the Unabomber, Has Been Diagnosed with Terminal Cancer
This follows his transfer to a medical facility in December
The new comes from a letter he wrote:
Foreign-born population soars to new record under Biden; highest rate of immigrants since 1910
The U.S. has had a massive surge in immigration this year, with as many as 1.5 million newcomers and a record 46.2 million foreign-born people, according to a report for the Center for Immigration Studies.
After a deep trough last year, likely because of the COVID-19 pandemic and the travel and migration restrictions imposed to control the spread, the flow of people rebounded around the time President Biden was elected.
In numbers never seen before, they are coming legally through airports and land border crossings and illegally across the Rio Grande and remote regions of Arizona and California.
"There was pent-up demand for legal immigration, and illegal immigration has exploded in one of the greatest surges, if not the greatest, we've ever seen," said Steven A. Camarota, the demographer who was the chief author of the report. "It's driving the numbers up and up and up."
As it stands, 14.2% of the U.S. population is foreign-born, or 1 out of every 7 people. That is the highest rate of immigrants in the population since 1910, when the number was 14.7%. At current trends, the government says, the U.S. will break that record well before the end of this decade.
Those numbers are even starker given the reversal of trends.
The data showed a drop of 1.2 million immigrants from February to September 2020, likely the result of coronavirus restrictions blocking new entrants, even as outmigration continued. That left the population of the foreign-born — the Census Bureau's term — at 43.8 million.
It was up to 45 million by January and marched steadily to the current 46.2 million total shown for last month.
In the year after President Trump's election, the immigrant population flattened.
Biden Vaccine Mandate for Contractors Blocked Nationwide
Mandate one of a set of Biden vaccine initiatives
States say contractor requirement violates Constitution
The Biden administration's mandate for federal contractors' employees to be vaccinated will be halted nationwide, amid a slew of challenges from states that say the president overstepped his authority in requiring the Covid-19 shots.
Led by Georgia, the seven states that challenged the mandate set to take effect on Jan. 4 are likely to succeed in their lawsuits against the administration's order, U.S. District Court Judge R. Stan Baker of the Southern District of Georgia said in an order issued Tuesday.
The Biden administration mandate applies to roughly a quarter of the U.S. workforce and affects companies that do business with the federal government, including Lockheed Martin Corp., Microsoft Corp., Alphabet Inc.'s Google, and General Motors Co.
Baker's order follows a Kentucky federal judge's grant last week of a preliminary injunction in a lawsuit involving Kentucky, Tennessee, and Ohio. Baker echoed what his Kentucky counterpart said, that blocking the mandate didn't indicate that the vaccine wouldn't be effective to stopping the spread of Covid-19, but rather that Biden didn't have the power to issue such an executive order.
Representatives from Georgia universities testified during an injunction hearing earlier this month, arguing that implementation of the mandate would be expensive, onerous, and cost them valuable employees who haven't yet presented proof of vaccination. Those schools receive millions from the federal government.
The court found that the states could likely prove that Congress didn't clearly authorize the president to issue the mandate, and that it "goes far beyond addressing administrative and management issues in order to promote efficiency and economy in procurement and contracting." The 2017 nominee of President Donald Trump said, instead, the executive order works as a "regulation of public health."
Neither the lawyers representing the state coalition nor the U.S. government immediately responded to emailed requests for comment.
Idaho Gov. Brad Little cheered Tuesday's ruling in a statement. The state is part of the Georgia-led contractor mandate challenge, as well as lawsuits against the Occupational Safety and Hazard Administration's shot-or-test emergency regulation for large U.S. businesses, and another inoculation rule for healthcare workers.
"Yet another one of President Biden's vaccine mandates have been temporarily shut down because the states—including Idaho—took a stand against his unprecedented government overreach into Americans' lives and businesses," Little said in the statement. "All three mandates are now completely stalled. We will continue to press forward in our fight against the federal government's bad policies."